Shanghai
"The Door is Always Open" Gary Baseman's Solo Exhibition Comes to K11
"If you have a key in your hand, are you willing to open the door and start an unknown journey with me?" When you receive this invitation, please get ready to come to the fairytale world, where there are warm lighting, cozy sofas and gorgeous food…these scenes are dizzyingly amazing. Don't be surprised, and don't feel shocked by the sudden appearance of the "mysterious man". He is Toby, the most popular character created by pop-surrealist artist Gary Baseman.  After traveling around the world, he has chosen Shanghai K11 Art Mall as his new home. From December 5, 2014 to March 5, 2015, The Door is Always Open by Gary Baseman will make its debut in Mainland China at Shanghai chi K11art museum.  Toby will be waiting for you to visithis wonderland.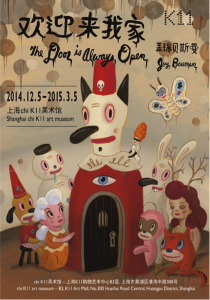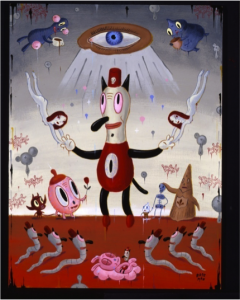 With his unique style and bold characters, Gary Baseman transforms the universal concept of 'home' into touching stories and an exhibition that provides unique experiences. Shanghai chi K11 art museum will be transformed into a unique experiential home under Baseman's rich imagination, in which guests are invited to sit on a sofa or at the dining room table to explore, participate and visit. Featured spaces include the Living Room (Welcome—Introduction), the Dining Room (Celebration), Hallway (Journey), the Study (Heritage), the Bedroom (the Human Condition), and etc. Each room, carefully crafted and thematic in nature, will evoke visitors to reflect and share their own stories about family, friends, mortality, love and loss, secrets and truth.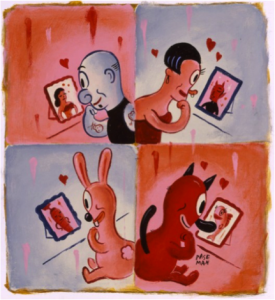 In addition to the vivid characters, Baseman has also explored both the pop and the macabre through a body of work that he describes as "pervasive", replete with paintings, editorial illustrations, art performances, vinyl toys, TV animation and board games. Such varied and profound exhibitions are closely related to the artist's personal experiences.  Baseman was born in the United States, and grew up in a family that has strong Jewish cultural and educational values. He was also influenced by multicultural environment of Los Angeles and the popular movies and game toys. His works have been published in New York Times, Wall Street Journal, Time Magazine, The New Yorker, and many other famous newspapers and magazines. His success marks a new era in art, bringing "Pervasive Art" into sight.
As Baseman's first solo exhibition in Mainland China, it is hoped that the question about the distinctions between high and public art, fine and folk art, classics and pop culture, will be raised among young Chinese artists and visitors. They are also expected to explore and critique the current art boundaries.
Moreover, to enable the public to learn more about the artwork on display, K11 Art Mall will also hold a series of academic seminars, as well as performances and workshops on underground art in modern China during the exhibition. The public can participate and learn more about the development of pop-surrealism art and non-mainstream art in modern China. As another key event after Claude Monet's exhibition in K11 Art Mall in Shanghai, The Door Is Always Open, Gary Baseman's Solo Exhibition is sure to bring more surprises to the public. We sincerely invite you to join us in this wonderful journey.
-END
The Door Is Always Open, Gary Baseman's Solo Exhibition
Time: December 5, 2014 to March 5, 2015
Venue: Shanghai chi K11 art museum
About Gary Baseman
Baseman was born and raised in the Fairfax District of Los Angeles in 1960. He is the fourth child of Holocaust survivors from Ukraine. His parents moved to the Fairfax District in 1957. Baseman grew up in a family which values Jewish culture and education. He was also influenced by multicultural environment of Los Angeles and the popular movies and game toys and gadgets. Baseman had outstanding performance in school since he was a child. He majored in communications at UCLA, and graduated with honors. He wanted to start a law practice, but finally chose art which he had dreamt of. Baseman moved to New York in 1980 and had access to different types of character creation and art design. His self-taught art talent enabled him to take any medium for art creation. Baseman coined the term "Pervasive Art" as an alternative to the lowbrow art label and he has stated that his goal is to "blur the lines between fine art and commercial art." His sarcastic creation style with black humor is attractive to both adult and child audiences.
Gary Baseman Career Phases
Illustration (1985-2011)
Baseman worked as an illustrator in New York City. He earned several awards from American Illustration, Art Directors Club, and Communication Arts. He has had major independent and corporate clients such as AT&T Corporation, Gatorade, Nike, Inc., and Mercedes-Benz.
Art transition (1999-2004)
Baseman reduced his commercial illustrations and started transition into the pure art world. He created many paintings and held exhibitions in different cities of the United States and around the world.
Animation - Teacher's Pet (2000-2002)
In 1998, Baseman created the Disney animated series Teacher's Pet, about a dog who dresses as a boy because he wants to go to school. The series aired on ABC from 2000–2002, and the feature film of the same title came out in 2004. Baseman won the Outstanding Individual in Animation Emmy for Production Design. The show also won two Emmy Award for Outstanding Special Class Animated Program 2001 and 2002; Outstanding Performer in an Animated Program: Nathan Lane; and a BAFTA Emmy for Best International Children's Program.
Toby
Among many characters Baseman created, Toby is the best known and most popular one. To Baseman, Toby represents another side of life, which includes adventure, play, creative ideas and bold experiments. He produced Toby of different sizes, down-filled or plastic, to emphasize "Pervasive Art" that he advocates.
-END-