Hong Kong
《 K11 X'MAS REFLECTION 》 Christmas Art Exhibition
In Collaboration with local new media artist Keith Lam and Dimension Plus
Transforming 10 year rainfall data into 10 meter polychromatic rain installation
Coalescing lights, images, sounds and music into immersive journey
International genius s culptor David Altmejd's masterpiece The Eve reveals aesthetics of nature
(Hong Kong - November 7, 2019) Nature and technology have always been perceived as sitting in an antagonistic position , yet as art infiltrates, an intriguing chemistry occurs. The aesthetics of nature has long been an important component in arts. With the advancement of technology, interactive element s have been endorsed into the work of nature to take the aesthetics to a new level. Through the integration of technology and art, artists are able to re present unique phenomenon from the nature ; hence they are rivaling and complementary at the same time, forming the ' Dream Team ' in contemporary art. Always seeking to promote contemporary art, K11 A rt Mall features the theme of ' Dream Team this year. By means of the triplet of nature, technology and art, 'K11 X'MAS REFLECTION ' Christmas Art Exhibition will take place from November 7, 2019 to January 1, 2020 to create a n extraordinary Christmas. The exhibition will invite people to start from K11 Piazza and travel through the Atrium and chi K11 art space to appreciate the artistic halo radiated from these three places. In order to let the public find out the artistic beauty of nature and technology from more perspectives , K11 Art Mall exclusively invites Keith Lam, local new media artist, and the crew of Dimension Plus to produce a new media immersive journey THE SUNATA , which incorporates lights, visual images, sound effects and music Meanwhile, the public could experience an alternative aesthetic of the nature through The Eve , masterpiece by international genius sculptor David Altmejd. It encourages people to unleash their imagination through artworks and experience the aesthetics of innovative technology and the nature.
Local New Media Artist Keith Lam Creates Immersive Journey of Lights, I mages and Sounds
The Christmas Art Exhibition takes the starting point from K11 Piazza where starts the prelude of THE SUNATA by Keith Lam, local new media artist, and the crew of Dimension Plus. Being skillful in the integration of technological knowledge and art, Keith has infused the concept of 'energy conversion' into his works in recent years. He stages energy flow with bodies and converts different senses into various perceptions. For example, the invisible sound is shaped into images and body stretches would trigger the emission of light, allowing every audience to become an artist themselves. It is a manifesto of the perfect union of nature, technology and art, and also a statement on his definition and concept on new media art. The brand-new work THE SUNATA, which carries through his style, is inspired by the lively Mozart's Sonata for Two Pianos in D-major (Sonata). By replacing the 'Son' with the 'Sun' – the centre of the eight planets, the piece is reinvented into THE SUNATA. The immersive journey is an outcome of a special formula of lights, visual images, sound effects, music and simple interaction, and collaboration with Edward Chiu, composer, producer and musician, for tailored-made soundtracks.
K11 Piazza : The Prelude Rain
Before the start of  THE SUNATA, Keith and the crew of  Dimension Plus have carefull y prepared a simple but sweet blessing to all audience which lifts the veil for the mysterious journey. From the ceiling of K11 Piazza a 10 meter long cloud shape white installation is suspended. Its free flowing forms are shapes figured by the rainfall data collected in Hong Kong in the last decade. And it is decorated with lights that will flicker according to the rainfall program. As the lights turning in different directions shine through every single unit of the installation, they will become rainbows of light as if there were polychromatic rain. From 7 th November, during 10 am and 10 pm every day , the polychromatic rain will fall through day and night to bring color and joy to every passerby.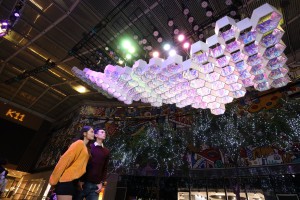 chi K11 art space: K448 Planet
After leaving K11 Piazza, visitors can proceed to chi K11 art space for an official experience on the new media immersive journey, THE SUNATA. Drawing reference from the movement of Mozart's Sonata for Two Pianos in D-major, K.448, the 'K448 Planet' is similarly organized into three sections: 'The Sun', 'The Cloud', and 'The Land'. In order to provide personal space for the experience, each audience will receive an audio guide. They will have to follow the instructions to walk through and watch each section as they create a unique and unforgettable memory.
The Sun: 
On the planet of K448, visitors will first walk into 'The Sun' section. Amid the infinite darkness in the sky, a beam of light appea rs like the sun, under which the vision lights up and colors up.
The Cloud: 
Pursuing the lights, visitors walk into another immersive art experience where lights form graphics. Lights and shades hover in the air with sounds and music and cross path with the shadows of visitors as they all walk past the 'Cloud Atlas'.
The Land: 
Following the 'Cloud Atlas' and lights, visitors will find out a refreshing piece of land resembling a tiny forest.  When they look up, they do not find the sky but reflections of themselves or other visitors. As they dance with their reflections, the journey gracefully comes to rest in the fleeting shadows.
International Artist genius David Altmejd Reveals Aesthetics of Nature Though His Masterpiece The Eve
In the journey by Keith, we feel the beauty of nature, technology and art. Yet, the aesthetics of the nature extends beyond that. For this reason , K11 Art Mall features the exhibition of The Eve , a masterpiece by internationally renowned sculptor David Altmejd. Born in Montreal , Mexican artist David Altmejd graduated from Columbia University in New York. His works have been exhibited in multiple international exhibitions and selected for the Venice Biennale, the Istanbul Biennale and the Whitney Biennale.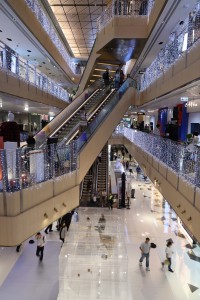 Widely known for his bold-looking sculptures, David's work seems to be caught in constant changes, as if it were a creature that shapeshifts and transforms, emitting the aura of an elf. His artistic accomplishment is founded on 'the infatuation with the nature, the fascination with incredible things, and the excitement with the unpredictable, distorted and unnamable'. This is the reason why The Eve, showcased in 'K11 X'MAS REFLECTION ' Christmas Art Exhibition, is framed by giant glasses within the structure of which is filled with symbolic objects arranged like a maze, and a mannequin in a sitting posture suspended upside-down in vast space. The work retains David's artistic style which, through biological art, becomes an art practice that unifies human and living tissues, bacteria, organisms and life processes. Obscuring the distinction between inside and outside, appearance and structure, and expression and abstraction, his artworks encourage spectators to approach the world in different perspectives.
《K11 X'MAS REFLECTION》Art Exhibition
Date: From now to January 1 , 2020
Time: 10am - 10pm (G/F Atrium & 11 am - 9 pm (chi K11 art space*)
Venue: K11 Atrium (G/ F), K11 Piazza (G/F) and chi K11 a rt s pace B2/F (K11 Art Mall, 18 Hanoi Road, Tsim Sha Tsui, Kowloon)
*Admission Fee: HK$30 each (KLUB11 & Artist KLUB members enjoy e xclusive privileges
Online Registration: http://bit.ly/36yDINo
Artist KLUB strives to bring people together and raise cultural and environmental awareness through a diverse range of events including exhibitions, artist talks, discussion panels, design workshops and live music shows
where members can enjoy and apprecia te art together as a community. Once join the individual membership of K11 Artist KLUB (annual fee HK$ 500), the member will be entitled to enjoy the following privileges:
Art Derivatives, Art Exhibition Tickets or K11 KULTURE ACADEMY Art Infinity Art Lab courses (value at
HK$750)
Unlimited admission to exhibitions (ticket price under HK$50) at K11 MUSEA and K11 Art Mall
10% discount on K11 KULTURE ACADEMY Art Infinity Art Lab courses
10% off at MoMA Design Store, K11 MUSEA
10% off at K11 Design Store, K11 Art Mall
Priority purchase of limited edition art products
Priority seats for all KULTURE11 programmes
VIP seats for Artist Talks
For more details on K11 Artist KLUB, please refer to https://www.klub 11.com/artistklub/aboutk11.aspx?type=a1
Artist Profile: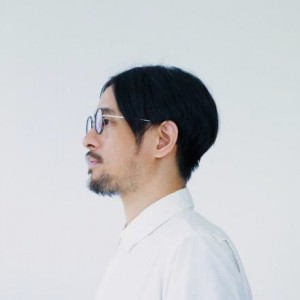 Keith, awarded the Hong Kong Film Development Fund Scholarship before his graduation, went abroad to study Animation and Visual Effects in New York University. It cast a key foundation for his artist career and later became a major turning point that inspired him to embrace the new media art world. Although Keith did not set foot in the technological information industry, he is able to put his knowledge into use and open up a new world by animating his artwork with technology. Keith is one of the best in pioneering in the art world with his interdisciplinary specialty. Aided by his technological expertise, Keith has incorporated the concept of 'energy conversion' into his work in recent years. He used body to stage energy flow and through transformation of senses into perception converted invisible sounds into visual images. Body stretches would spontaneously trigger the emission of light, which allows visitors to become an artist themselves. This perfectly delineates his definition and concept of new media art, and wins him recognition from local and international art scenes. Awarded by Ars Electronica Festival in Austria (the 'Oscars' in digital art), Hong Kong Arts Development Council's Award for Young Artist, and Japan Media Arts Festival 2014, he has become an exceptional new media artist.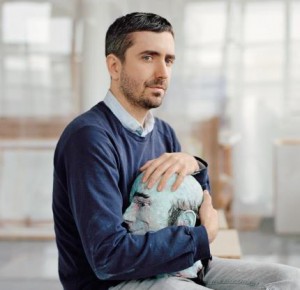 David Altmejd (born 1974) is a Canadian sculptor who lives and works in New York City. David Altmejd has degrees in visual art from UQAM. He is represented by the Andrea Rosen Gallery (New York) and Stuart Shave / Modern Art (London). His work has been shown in Quebec, United States and Europe. In a few years, Altmejd has already acquired an international reputation, notably participating in the Istanbul (2003) and Whitney (2004) biennials, and his works can be found in collections as important as those of the Guggenheim and Whitney museums in New York.
Widely known for his bold-looking sculptures, David's work seems to be caught in constant changes, as if it were a creature that shapeshifts and transforms, emitting the aura of an elf. His artistic accomplishment is founded on 'the infatuation with the nature, the fascination with incredible things, and the excitement with the unpredictable, distorted and unnamable'. David Altmejd's work is a unique and heady mix of science and
magic, science fiction and gothic romanticism: a post apocalyptic vision which is at the same time essentially optimistic, containing as it always does t he potential for regeneration, evolution and invention.
About K11 Group
K11 Group was founded in 2008 by renowned entrepreneur Adrian Cheng.  The unique concept brand combines art and commerce in commercial and residential real estate, and a growing portfolio of brands across different sectors in Greater China and around the world.
Marking its 10th anniversary, K11 Group announced its most ambitious Cultural-Retail development K11 MUSEA in June 2018, situated at the heart of the new $2.6bn Victoria Dockside art and design district developed by parent company New World Group in Hong Kong, scheduled to fully open in 2019.
In addition to its flagship K11 Art Malls, K11 Group also operates K11 ATELIER, a network of office buildings for the next-generation workforce; luxury residences for worldly travellers K11 ARTUS; open education platform K11 Kulture Academy; the Terrarium-inspired transformative retail space K11 Natural; consulting and market research institution K11 Future Taskforce; K11 Art Foundation, China's first not-for-profit to incubate Chinese artists and curators.
K11 Group is based in Hong Kong and has operations in Greater China, as well as investments in Europe and the US.
Through K11 Group, Cheng's stated aim is to enrich the new consumer's daily life through the power of creativity, culture and innovation. This work will create a new global identity for Chinese millennials as well as cultivate opportunities for communities to thrive, connect, work and shop. By 2024 K11 Group will have gained a footprint in nine cities across Greater China. K11 was honoured by Fast Company as one of the most innovative companies in 2019 for its disruptive retail model.
For media enquiries, please contact:
K11 Concepts Limited
k11communications@K11.com
-END-